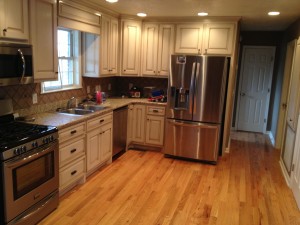 When your home is damaged, you don't feel comfortable any more. You may feel stuck, or anxious about the possibility that your property will lose value. We sincerely hope that your home is never in need of restoration, but we're here if you need us. We bring over 15 years of experience helping homeowners navigate some of the most challenging times in their lives. Our team are experts at helping you ensure that your life can return to normal as quickly as possible. Our restoration services include, but aren't limited to:
Water Damage: 5ive Star Restoration will respond to your call quickly, day or night, with a full supply of state-of-the-art remediation equipment. Our technicians are IICRC certified and highly trained, and will begin by assessing the situation to determine the best plan for a rapid response. Regardless of whether you've experienced a minor spill, burst pipe, or catastrophic flood, we will return your home, office, or business to it's pre-damaged state quickly, and effectively.
Wind and Roof: Natural disasters can wreak havoc on your home and businesses. Hail, straight line winds and tornadoes can cause damaged and missing shingles, broken windows, or complete destruction of your roof. We understand that your home's interior and your valuable possessions may be left exposed, so we respond immediately and begin by protecting your belongings from exposure to natural elements. We're experts at executing repairs following catastrophic storms. Once your home has been secured, our team will assist in cleaning and repairing the damage.
Fire/Smoke: Even small fires caused by appliances can cause significant damage throughout your home. Our fire damage professionals are highly trained and capable of assisting you at a moment's notice. Our fire and smoke restoration process begins with an assessment. We understand that fire is often only one component, so we perform comprehensive restoration to mitigate the effects of fire, smoke, heat, and moisture throughout your property.
Mold: Mold can present significant health risks to individuals living in a contaminated space. Depending on the type of mold present and the extent of the damage, it may be essential to the health of you and your family to address the issue immediately. Following an initial assessment, we begin mold removal and remediation processes quickly to ensure you are impacted as little as possible.
Construction and Remodeling: Our team of experts offer complete contracting services for residential homes, multi-family housing, and commercial spaces. We have the experience to quickly restore or improve your home and quality of life.
Each of our restoration services comes with the expert guidance of professional estimators, who bring years of experience working with the insurance industry. Whether you're facing the health-threatening effects of mold, or have been forced out of your home by a natural disaster, we ensure you're able to get the work done at the lowest cost possible, and your property is returned to the best condition possible. 5ive Star Restoration will work with you and your insurance company directly to ensure your claim is resolved quickly and accurately, and nothing is missed during the process.