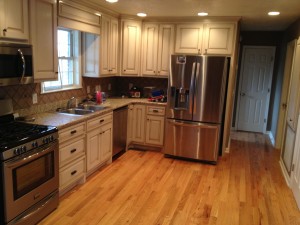 When your home is damaged, you don't feel comfortable any more. You feel like you're stuck. We hope you never have to feel that way, but if you do, we're here to help to ensure that everything is returned to it's proper order and your life can continue on as normal. Our services include:
Water Damage: 5ive Star Restoration will respond to your call quickly using the finest state of the art equipment in the remediation industry. our highly trained and experienced IICRC Certified Technicians will rapidly assess the situation and begin the emergency services best suited to the particular problem. Regardless of whether you have suffered a minor spill , burst pipe or catastrophic flood 5ive Star Restoration will return your home, office or business to its pre-loss condition quickly and effectively.
Wind/Roof: 5ive Star Restoration assists property owners with repairs and cleanup to their homes and businesses following catastrophic storms. The damage caused by hail, straight line winds and tornadoes can range from damaged /missing shingles, broken windows, or complete destruction. Our team can help clean and repair any damage that may have occurred.
 Fire/Smoke: 5ive Star Restoration has  fire damage professionals ready to assist you with your specific needs at a moments notice.  Our team will survey the loss site to determine the extent to which fire, smoke, heat, and moisture impacted building materials and belongings.
Mold: Excessive amounts of mold and certain type of mold may present health concerns. it is essential for the health of you and your family, as well as the protection of your property, to address the issue and arrange for 5ive Star Restoration to conduct mold removal and mold remediation as soon as the presence of mold is identified.
Construction: 5ive Star Restoration offers compete residential, multi-family housing and commercial space contracting services as well as the experience and resourcet to restore your home and life. our trained team of estimators have extensive experience in the insurance industry. this insures that we don't miss anything and that your property is returned to a pre-loss condition. 5ive star restoration will work with you and your insurance company directly to ensure your claim is resolved quickly and accurately and nothing is missed on your home.